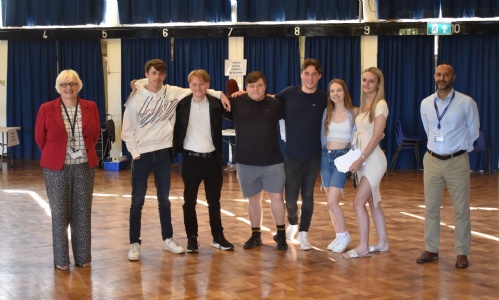 Another fantastic year of results at The Howard School Sixth Form!
In continued unprecedented times, The Howard School Year 13 cohort collected their results this morning amidst an atmosphere of uncertainty, excitement and celebration.
The Howard School has proudly maintained its high standards, with students delivering outstanding excellent academic and applied results again this year. Performance in A level subjects has moved forward again this year with the Average grade being a B. Grades achieved in applied general subjects were very strong with students achieving multiple Distinctions from the new tougher examined courses. The average applied grade has risen to a Distinction. Early indications are that students have secured the grades necessary to access their chosen university courses, higher apprenticeships and employment routes.
We have seen some outstanding individual performances. Benjamin Smith achieved grade A* in Mathematics and Art and an A in Physics, whilst Erden Ozkan achieved A* in English Language and Literature and Mathematics and an A in Chemistry. James Geddes achieved A* in English Language and Literature and History and an A in Philosophy and Ethics.
Other notable performances included Lewyss Banfield, Tyler Brett, Jack Cope, Bobby Davies, Cody Goodman, Jake Griffiths, Joshua Hodge, Parris Khan, Max Penny, Sophie Vause and William Phelps who all achieved the top grades of A*/B in three subjects.
Ms Reid expressed how delighted she is that the hard work of students and staff has paid off and that the school is able to celebrate their success.
Congratulations to you all!