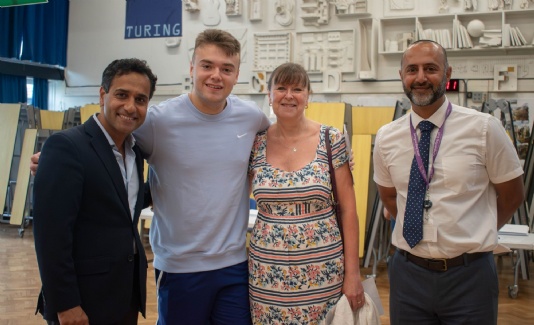 The Howard School Year 13 cohort collected their results this morning amidst an atmosphere of excitement and celebration. For many, this was the first set of formal examinations they had sat following the cancellation of GCSE examinations during the Covid pandemic and the awarding of Teacher Assessed Grades.
The Howard School has proudly maintained its high standards, with students delivering consistently excellent academic and applied results once again this year. The overall grade across all subjects at A-Level and Applied General was a C grade, which remains in-line with last year's results and above 'pre-covid' 2019 outcomes.
Grades achieved in applied general subjects were very strong with students achieving multiple Distinctions and Merits from the new tougher examined courses. The average Applied General grade is Distinction. Early indications are that virtually all students have secured the grades necessary to access their chosen university courses, higher apprenticeships and employment routes.
We have seen some outstanding individual performances:
Terrence M – AA*A*A
Thomas F – AAA
Filip M – AAA
Jack M – BD*D*
Abbie H - AD*D*
Dylan P – A*D*D*
Other notable performances included Michaella G, Nico G, Morgan A, Aleem J and Lily M, who all achieved the top grades of A*/C in three subjects.
Mr Johal, Headteacher, expressed how delighted he is that the hard work of students and their teachers has paid off and that the school is able to celebrate their success.
If you are interested in finding out further information regarding a place at The Howard School's mixed Sixth Form, please contact the School Office – office@thehowardschool.co.uk / tel 01634 388765