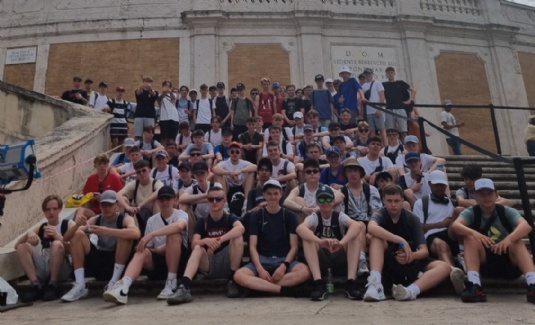 As a school, we went on a huge number of trips in Term 6, particularly in line with Enrichment Week.
The History Department took Year 7 to the Royal Engineers Museum as part of Enrichment Week and the boys not only represented the school fantastically, but they engaged so well with the different workshops and developed their knowledge of our local history and that of World War One. Pupils were able to handle genuine artefacts from World War One, which enabled them to ask insightful questions and learn about the use of the artefacts during war. Pupils were also able to test their bridge building skills by working in teams to design and construct their own bridges.
As part of the Maths and ICT Enrichment Week, numerous Year 8s went to the STEM Discovery Centre in Stevenage. Whilst there, they learned to programme miniature Mars Rovers, built sling-shot rockets and explored a range of STEM activities like lights, magnets, and volcanoes complete with smoke and lava! The trip was a huge success that was loved by all that attended (mainly the staff!) and we look forward to returning again.
As part of the Erasmus Project, 6 Year 9 students got to experience Frankfurt in Germany along with 2 schools from Spain and a school in Croatia. The exchange was a triumph, and we look forward to visiting Calasparra and Majorca in Spain and Croatia in the next academic year. The students that went were a credit to the school, and we look forward to our future exchanges.
Year 10 Geography Students took part in their GCSE Fieldwork, which saw them take to the Eynsford River and Margate over the course of two days. The aim of this was to collect raw data that they could then analyse back in the classroom, ready for their GCSE exams at the end of Year 11.
The Geography Department also organised a residential to Italy earlier in the term. All 70 students that attended the residential had an amazing time, and made memories that really will last a lifetime. The trip, which saw our boys take to Rome and Mount Vesuvius, is always a firm favourite and we look forward to returning in a few years!